Description

| | |
| --- | --- |
| Product Name | RU58841 |
| CAS No | 154992-24-2 |
| Stock | Available |
| Sample | Available |


It's absolutely BEST to apply mixed and prepared RU after you've washed your hair/scalp and your hair is completely dry. Try to apply it within 30 minutes of washing your hair because your scalp produces an oily substance called sebum which will lessen the efficacy of RU penetrating the skin and blocking DHT topically.
If using it on your hairline, be aware that the RU solution is a bit watery so it's best to apply WITHIN and behind the hairline. You'll want to preserve what may be receded but potentially also regrow any hair. This way, you're not just applying the slick bald spots, you want to maintain them as well! If you apply it just outside the hairline to regrow anything, you'll find that a lot of runs down your noggin and go to waste.
Tip: Exfoliate your scalp! This is actually good because it removes old skin and lets you fight DHT even better. Try to buy yourself an exfoliating cream. They're not too expensive, maybe $25 at the most but you won't use much of it anyway, just around the hairline/temples or wherever needed. I typically exfoliate before showering. Let the cream sit for about 1-2 minutes though.
Here's where you can apply RU: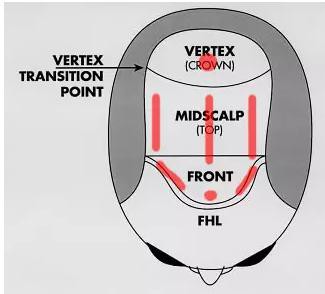 Red lines indicate where I drop RU. Any spots in between are usually rubbed in with a finger or compensated with CB which I'm on as well.
Storage
Keep your RU powder sealed and in the fridge or better yet in the freezer to have the efficacy last for as long as possible. I've read that RU can withstand several weeks at normal room temperature before it goes bad, but don't risk that and just store it in the fridge/freezer. Also, make sure it is kept AWAY from light and sealed tight blocking out air. I have mine stored in a small plastic bottle closed tight but I also put the bottle into a zip
Side Effects
As RU58841 does not affect the production of either testosterone or DHT, the patient's hormone levels are unchanged. As long as the treatment is localized to the area it is needed, there shouldn't be any unwanted side effects.
If it is used on the scalp, by effectively inactivating DHT receptors, RU58841 should be able to stop the miniaturization of the hair follicles seen with ongoing exposure to DHT, and therefore reduce or stop androgenetic alopecia.
It is specifically designed as a topical treatment.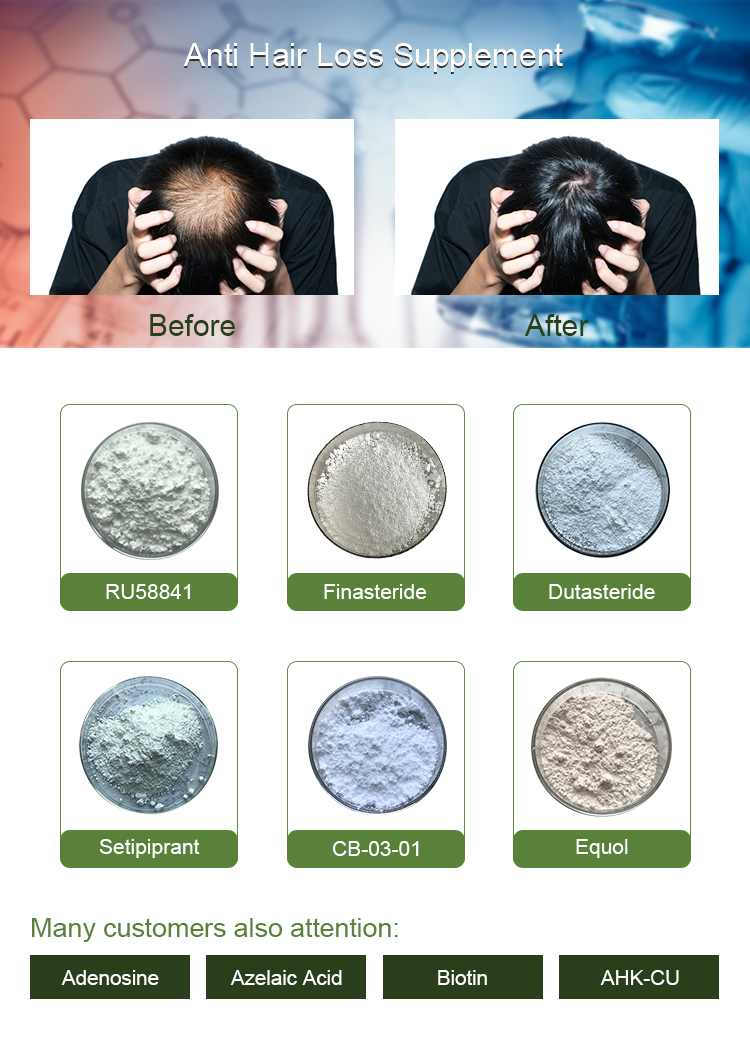 More Than 10 Years Experience in the Field of Health and Export (Established in 2011, And Developed 3 Branch Companies)
Certificate  Of ISO, Halal And Kosher
High Standard Workshop And Visitors Welcome At Any Time
Professional  Team
Providing OEM Service
Transaction  Guarantee And  Convenient  Payment Terms Available
Professional  Packing And Custom Packing Service
Providing Visual Delivery Process
Providing Refunds Or Exchanges Service

We Provide You With The Sincerest And Most  Professional Service As follows
1. Sales
24 Hours of Market  Information
Sharing of Market Information Trend
Suggestion for Purchase Decision
2. Payment
Different Payment Terms: TT, LC And So On
Multiple Payment Methods: Bank Transfer, Credit Card, Paypal Etc.
Funds Risk Control
3. Shipment Conditions
Fast Shipping Within 3 Working Days Usually
Update for Full Shipment Process From China to Destination
Cooperation for Fast&Smooth Custom Clearance at Destination
4. Reputation
Implementing Contract Terms Strictly
Timely Solving Any Discrepancy or Goods Claims
Responsible for Loss Under Our Liability Others
5. Others
Assistant: Sample Working; Help You Solve The Problem in China
Registration: Professional Team for Registration in Market
Technology: Rich Experienced Technician to Support