As health and wellness continue to gain importance in people's lives, demand for high-quality food supplements is on the rise. As a retailer, you want to make sure you offer the best products to your customers. That's where our wholesale OEM high-quality food supplement vitamin K2 MK7 powder comes in. Let's take a closer look at what makes this product so exceptional.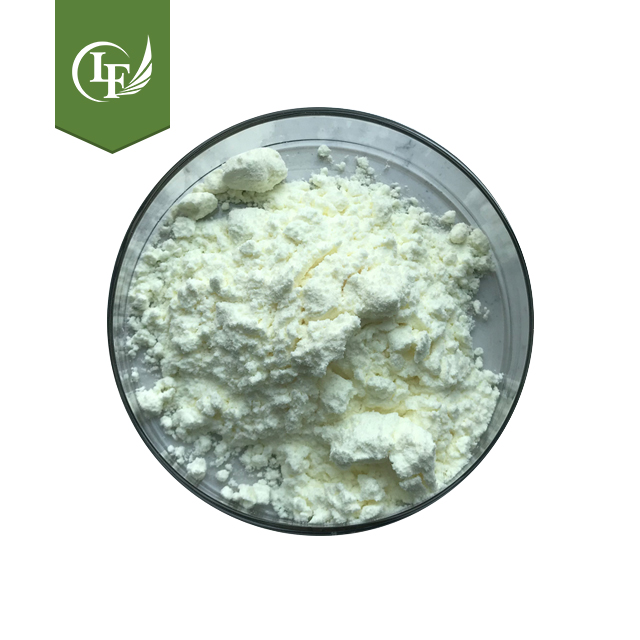 First of all, what is vitamin K2 MK7? It's a nutrient that plays a crucial role in maintaining healthy bones, cardiovascular health, and blood clotting. However, it's often lacking in people's diets, and that's where supplementation comes in. Our vitamin K2 MK7 powder is derived from natural sources and is of the highest quality, ensuring maximum potency and efficacy.
So why choose our product over others on the market? For one thing, we offer wholesale prices, allowing you to maximize your profits while still offering a competitive price to your customers. Additionally, our product is available for OEM customization, meaning you can tailor it to fit your brand and specific customer needs.
But what really sets our vitamin K2 MK7 powder apart is its quality. We work with only the most reputable and reliable sources to ensure that our product is of the highest purity and potency. Plus, we use state-of-the-art manufacturing processes to ensure that our product is free from contaminants and meets the highest industry standards.
Finally, we understand that as a retailer, you want to offer products that your customers can trust. That's why we're committed to transparency and traceability. We provide detailed information about the sourcing, manufacturing, and testing of our product, so you can be confident in what you're offering to your customers.
In summary, our wholesale OEM high-quality food supplement vitamin K2 MK7 powder is an exceptional product that offers a range of benefits for your customers. With its potent and pure formulation, competitive pricing, and customizable branding options, it's a smart choice for any retailer looking to offer premium nutrition products to their customers. Contact us today to learn more about how you can stock our product and take your business to the next level.
| | |
| --- | --- |
| Product Name | Vitamin K2 |
| Form | MK-7,MK-4 |
| CAS No. | 11032-49-8 or 863-61-6 |
| Sample | Available |
| Storage | Cool and Dry Place |
Specification list
Natural(From Natto)
Synthetic
Vitamin K2 MK-7(CAS: 2124-57-4 or 27670-94-6)
Powder
0.1%, 0.15%, 0.2%, 0.45%
0.1%, 0.2%, 0.5%, 1%, 1.3%, 1.5%, 3%, 5%
Oil
0.15%, 0.2%, 0.45%
0.1%, 0.2%, 0.5%, 1%, 1.5%
Vitamin K2 MK-4(CAS: 863-61-6 or 11032-49-8)
Powder
98%, 99%
Oil
Comparison of Natural and Synthetic
Natural
Synthetic
100% all-trans
25%-95% trans
Safe feeding, natural controllable
Chemical process with solvent residues
Physical multi-stage membrane concentration process, zero residue
Complex separation process and with impurities
Zero pollution
Pollution on environmental
Higher production cost
Lower production cost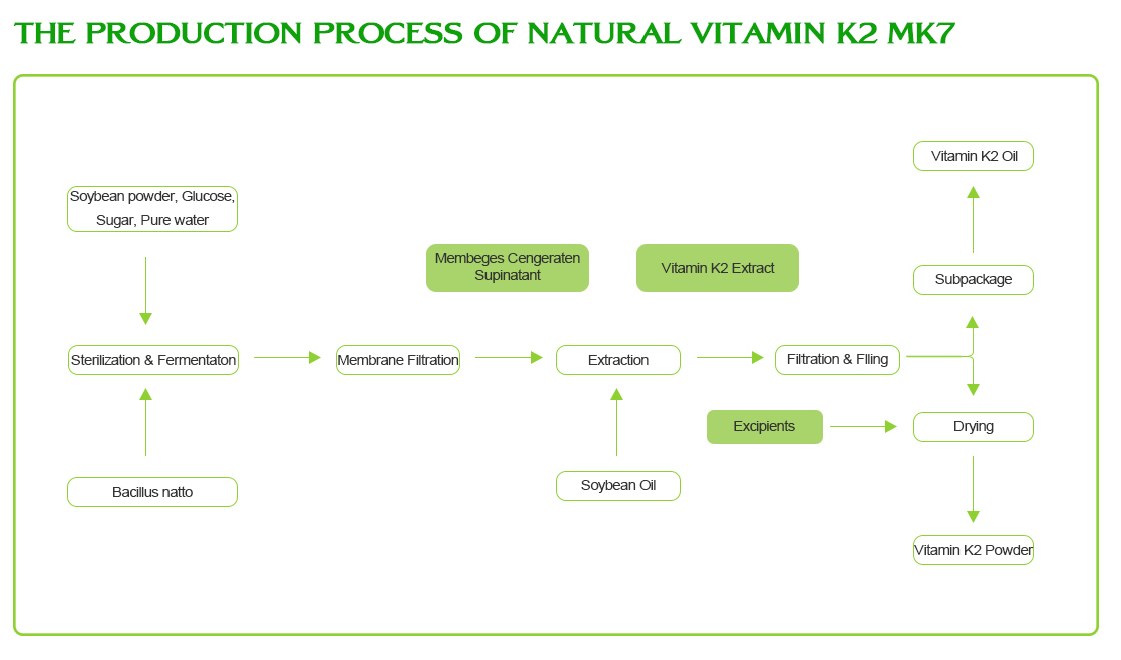 (1) treatment and prevention of osteoporosis, vitamin K2 generates bone protein, and then together with the
calcium of bone formation, increase bone density and prevent fractures.
(2) Vitamin K2 can prevent progression to liver cirrhosis.
(3) the lack of treatment for hemorrhagic disease of vitamin K2, and promote the formation of prothrombin,
accelerated blood clotting, maintain normal clotting time.
(4) a diuretic, strengthen the liver's detoxification function and can lower blood pressure.